Rates - Wolf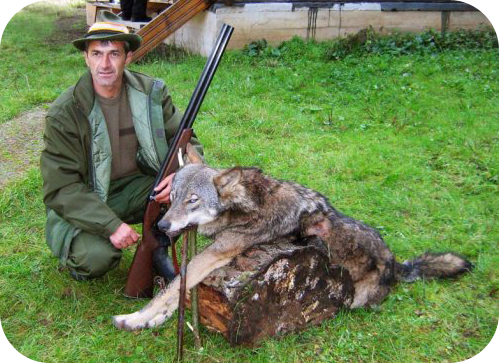 Hunting for individuals and groups up to 3 hunters is organized throughout the year, while the exceptional quality trophy hunting is recommended in winter. During the winter, wolfs regularly come to carcass dumps and hunting success is anticipated.
Hunting packages starting at 2000 Euros for individuals and the groups include:


- 4 nights of hunting with full board (in a hunting lodge),
-  hunting fee for 4 days
- leasing of hunting rifles with the IC scope, so you don't have to bring your own
- professional guide (1:1)
- all You can eat / all You can drink (limited selection of alcohol beverages included)
- transportation costs from the Sarajevo airport to the hunting ground and back and within the hunting ground
- wolf trophy, regardless of the trophy value, age, and gender
- raw preparation o trophy
If unsuccessful we will return you 500 Euro.
Fur and head with the skull belongs to the hunter.
Each missed shot is charged 200 Euros.
For wounded and not found the wolf, costs  is 300 Euros.


We can offer individual or group wolf hunting in combination with other types of hunting, depending on your desires, capabilities and your free time. We also offer a video camera recording of hunting with professional guides, photo safari from tall hunting stands, etc.
From the rich gastronomic offer we recommend and offer veal, venison, various types of brandy, grilled meat, grilled lamb and other delicacies.