Rafting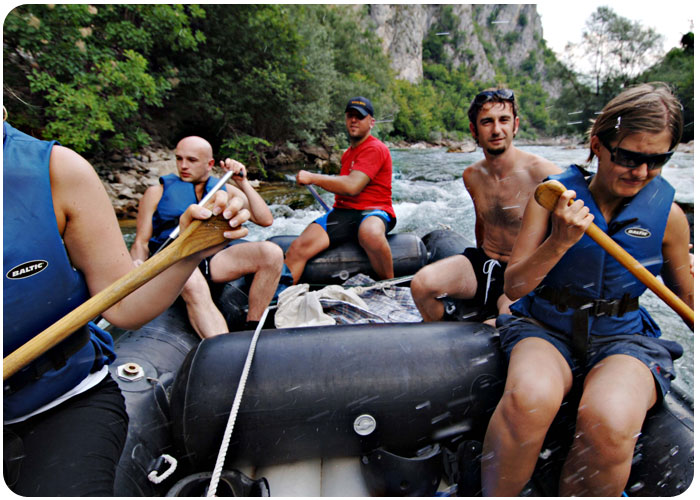 Rafting on the Neretva river- the emerald of Herzegovina is a lifetime experience! The unforgettable journey starts in an ancient village of Dzajici, where our partners – the true pioneers in rafting with over 30 years of experience, will welcome you.  They pay special attention to maximum security and comfort for our guests.
Deep canyon walls, endemic flora and fauna, and a wild & pristine ambiance that only the Neretva can provide will make your journey unforgettable. The rafting of class 2-4, depending on the level of the water and the season is suitable for all, so no previous experience is required. This oasis and protected area has a long tradition of extreme water sporting and easy family outings that can accommodate a wide range of outdoor enthusiasts. Our skippers will inform the guests about the rowing techniques, sitting and behaving in the boat, acting in different situations - a true short course of rafting! We will pass through the most attractive part of the Neretva canyon, stop at the waterfalls and wild springs for photo shoots and swimming. On the half way down, during the break at the mouth of Rakitnica to Neretva, the grilled trout will be served. We would like to point out that we are a destination not only for adventurers and sincere nature lovers, but also paradise for true hedonists. Upon the completion of the rafting, the traditional specialties of the local and international cuisine, made from fresh organic food produced in the area will be served.
Rafting package, at the price of 40 Euros per person for a group of 3-20 guests include:
- return transfer from Konjic to Dzajici and rafting start point,
- welcoming coffee/tea/homemade brandy
- use of rafting equipment (helmet, wetsuit, life jacket, rafting boat)
- professional skipper service (2 skippers per boat)
- brunch (grilled trout) at the mouth of the Rakitnica to the Neretva
- lunch ( minimum of 6 meals)

What to bring: spare clothes and socks for change, sun protection, swimming suite, photo/video cameras (we will provide you with the waterproof bags).
The overnight with the breakfast/dinner, in the cozy mountain lodge near Konjic increases price for 20 Euros. 
Transport from Sarajevo, Mostar or Dubrovnik will be provided upon your request.