Capercaillie (Tetrao urogallus)
To hunt grouse and to get hold of its trophies, is the privilege of the few lucky ones. Hunting of grouse on sporting and ethical manner, during the singing in April and May is the ultimate hunting experience. This large bird is very sparse in Central and Southeastern Europe, but in high mountain hunting grounds of Bosnia and Herzegovina there are still high trophy of this rare and beautiful bird. With great pleasure we invite you to be one of the privileged hunters, and enjoy this very challenging and exciting hunt.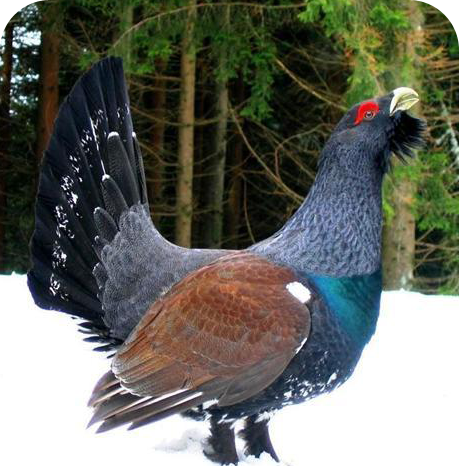 Time and place of hunting (grouse singing) are accurately determined, and are located on the snow-covered areas of more than 1000 meters above sea level. Because of  extreme shyness of this mysterious bird, hunters are not forgiven the slightest mistake, which is why the assistance of our professional guides is necessary.

We organize grouse hunting in the period 15.03. - 31.05. Due to the small number of grouses available for hunting, we invite you to book your place at least two months in advance.
We can offer individual or group grouse hunting in combination with other types of hunting, depending on your desires, capabilities and your free time. We also offer a video camera recording of hunting with professional guides, photo safari from tall hunting stands, etc.