Wild boar (Sus scrofa)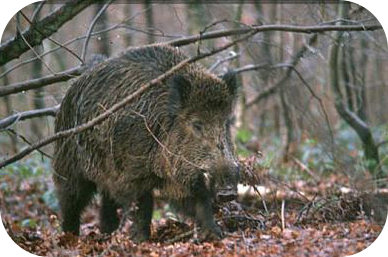 We organize boar hunting throughout the year, individually from the high stands or in ambush, while group hunting drive is organized in the period 01.11. - 01.02. Hunting is organized in the plains of Srem, an hour away from the international airport of Belgrade, and mountain hunting grounds in Central and Western Bosnia, two hours away from the international airport of Sarajevo and Zagreb.

Mountain terrains entwined by aisles and forest paths are ideal for group hunting as they provide a hunter with an exceptional terrain layout and a possibility of multiple shooting.
Given the configuration of the terrain, this type of hunting requires expressed shooting ability.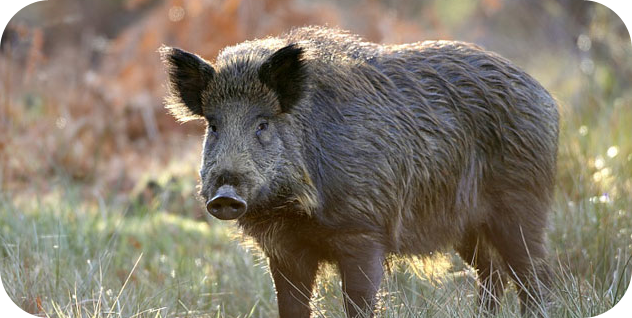 Professionally organized hunting with dogs and chasers, lunch between the two drives by  a hunting fire in the forest, with a rich catch, guarantees the unforgettable hunting memories. We invite you to experience it with us!
We organize a very successful individual wild boar hunting in the mountainous areas of Bosnia and Herzegovina, as well as closed hunting grounds in Srem. As a closed military facility, the said hunting ground has so far hosted many distinguished guests from the worlds of politics and business, and a large number of foreign diplomats. The specific hunting grounds and centuries-old oak forests are home to big and strong boars. The trophies valued 135-145 CIC points have been hunted down in the said hunting ground.
We can offer individual or group wild boar hunting in combination with other types of hunting, depending on your desires, capabilities and your free time. We also offer a video camera recording of hunting with professional guides, photo safari from high stands, etc.